New Report Shows Upgrading Your Network Reliability Management Now Prevents Trouble and Expense Later

Bob Berry, President & CEO

Upgrading your network reliability management now can be vital to the future health of your network — that's just one of the findings by Fortune 500 researchers included in the 2004 Telecom Trends and Risks Report. Our researchers also uncovered new data on minimizing maintenance costs, beating customer churn, and other topics that will keep your network running smoothly.

This report was recently presented at an online seminar for Remote-Monitoring-Advisory.com (New online seminars will be announced soon.) As a Protocol subscriber, you now have a limited opportunity to download a transcript of the seminar, plus the Telecom Trends and Risks PowerPoint presentation and voiceover commentary. The transcript will be posted for about a week, so if you want to take advantage of this valuable research, download it now.

---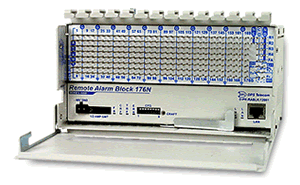 The RAB 176N: 176 discrete alarms, 4 controls, standard wire wrap terminations and LAN connectivity.
Take a look inside any equipment room in your network and ask yourself: How much of this stuff is actually making you money? Wouldn't it be better if your support equipment freed space for revenue-generating equipment?
That's the thinking behind the Remote Alarm Block 176N — combine large alarm capacity with a small form factor that can mount in your MDF, in a rack or on the wall. With industry-standard wire-wrap alarm terminations and a circuit pack that can be removed without disconnecting alarm wiring, the RAB 176N fits right into your network.
Learn how you can free space for your revenue-generating equipment ...
---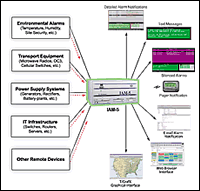 Network Visibility for Everyone Who Needs It, in a Format Specific for Their Needs
You have a whole team of people working together to keep your network running reliably. They each have a unique role to play and different perspectives of your network. Your network reliability system should be able to accommodate their different visibility needs. Technicians need pager notifications, supervisors may need email visibility and web browser access, and your network operations center needs top-level visibility down to the nitty-gritty details.
T/MonXM supports multiple notification and display methods to ensure that critical information gets to the people who need it, including alphanumeric and numeric pager notification, e-mail notification, a Web Browser interface, and optional presentation software that displays information on a physical map of your network.
How notification options deliver tailored information to your staff ...
---
Praise From Our Partners — Confidence in Network Reliability Equipment
Kevin,
After seeing the extensive advantages to upgrading one particular site out of many within our infrastructure, I wanted to send you a note to let you know how impressed I am with the improved performance and monitoring capabilities over the previous equipment utilized in the majority of our sites (that by the way, are being upgraded / replaced across the network). We have had issues in the past with other vendors monitoring tools that left us uncertain as to the reliability of the equipment and its limited capabilities. Thanks to DPS' "open-ear" to the demands of hundreds of businesses, I/We have a level of confidence not previously acquired with other so-called "solutions" to enhance out network monitoring.
Thanks again to ALL with in your company who have worked diligently to provide no less than the best.
Sincerely,
J. Jones
TXU Communications
Featured Employee: Chad Linnenbrink, Tech Support Engineer

Chad Linnenbrink
Name: Chad Linnenbrink
Current Position: Tech Support Engineer
Education: BS in electrical engineering, Cal Poly, San Luis Obispo, California
What was your job before working at DPS? College student, part-time computer class teacher at a Gateway Computer store.
Technical Strengths: Troubleshooting. Keeping a broad scope of solutions and not converging on the first solution I think of.
Why did you become an engineer? When I was a kid, every time Ataris, VCRs, anything electronic would break, I always took them apart trying to figure out why there were broken, how they worked, and how to fix them.
Is this what you've always wanted to do? Yeah, I like it a lot. I get to see what the clients demand and work on small, quick projects that adapt our existing product what the clients need.
What's the most fun thing about your job? I play with cool stuff. And I'm allowed to break it. If you buy our equipment for yourself you never really want to push it to the edge, find out what it can do. But when clients call I can tell them you can run a mile of wire to our alarms and it'll work fine, because we've tried it. We were curious, we wanted to know if it would work.
Family: My wife Melanie, a beautiful woman, my best friend. We have a good time together.
What do you do for fun? Mountain biking, alpine skiing, anything outdoors. It's kind of sad, but I still play with computers when I come home from work.
What have you done for a DPS client that you're really proud of? Getting up at two in the morning when a client calls with a site that's down and needs to be fixed. Being willing to give up the sleep and do the job that needs to be done.
---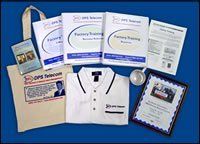 The Factory Training Resource and Reference Kit.
It's the quickest, easiest, and surest way to learn how to use your DPS equipment to the fullest. This is training that will immediately pay you back in enhanced staff efficiency, better network reliability, longer uptime, and increased revenue. Even if you don't own DPS equipment but are considering it, what better opportunity to cut through the marketing hype and get the real story for yourself.