Don't Wait for an Outage to Reveal Your Network's Vulnerability

Bob Berry, President & CEO
Too many calls to DPS Telecom begin like this: "We just had a network outage, so now the higher-ups want to make sure everything's monitored."
All too often, senior managers don't see the importance of network reliability management until they experience first-hand the pain of a network outage: the lost revenue, the repair costs, the customer anger.
So how do you know if your network is adequately protected? There's a tool that will help you survey your network and its reliability management quickly and accurately — the Network Outage Vulnerability Assessment, or NOVA.
NOVA is a easy-to-use business tool that will indicate the potential for an outage on your network. It takes just a few minutes to complete, but it may alert you to serious vulnerabilities you might have overlooked.
NOVA is absolutely free to Protocol subscribers.
It can be a sobering wake-up call to see how vulnerable your network is to an outage. But it's better to know now and take action rather than to find out the hard way.

---
New Additions to NetGuardian Family Deliver Cost-Effective SNMP Monitoring in Specialized High-Density and Light-Capacity Formats
The popular NetGuardian family of remotes has just expanded by two — introducing the NetGuardian 480 (4 controls and 80 discrete alarms) and the NetGuardian 216 (2 controls, 2 analog alarms, and 16 discrete alarms). If you've been looking for a cost-effective way to bring SNMP monitoring to your small and medium sites, the new NetGuardians are the answer.
Like their big brother the NetGuardian 832A, the new NetGuardians are LAN-based SNMP remotes you can trust to monitor your most critical systems — but with alarm capacities scaled to the specific needs of your small and medium sites.
The new NetGuardian 480 and NetGuardian 216 are two great options for covering an entire site with a single-unit monitoring solution at an economical cost per point, eliminating the expense of multiple-unit solutions.
Which NetGuardian is right for you?
Get the full story on the new NetGuardian 480 and NetGuardian 216 ...
---
Even With Minimal Training, Everyone On Your Staff Will Know What to Do in Case of an Alarm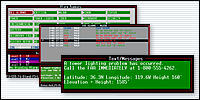 T/MonXM automates the detail work of alarm notification, saving time and reducing your dependence on your monitoring staff.
In today's economy, network managers are under pressure to deliver more for less — to raise network reliability to ever higher, near-perfect levels, while cutting staff and training costs to the bone. This is a big challenge, but it's not impossible — and T/MonXM can help you make it work.
T/MonXM is designed for today's network operations, to help you monitor large, complicated networks without a large expert staff. T/MonXM's easy-to-use and highly informative interface ensure that your staff, whatever its size or skill level, can monitor your network effectively and safely.
T/MonXM interface elements that eliminate diagnostic guesswork and ensure prompt, accurate correction of network problems ...
---
"DPS told us we didn't have to pay if it didn't work. It works and it's sweet." - Glenn Lippincott, Southern Company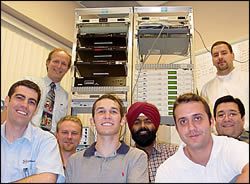 DPS engineers developed a custom solution to poll Southern Company's aging Badger remotes.
When Glenn Lippincott of Southern Company called DPS Telecom tech support, he wasn't planning on replacing his legacy Badger remotes with a new, custom-engineered network monitoring solution. He thought he had a simple question about his T/MonXM system. But as tech support chief Ron Stover walked him through his T/MonXM configuration, Lippincott saw a menu item that caught his eye. So he asked about it, and the answer helped him improve his network monitoring and save his company hundreds of thousands of dollars.
How Southern Company got support for its legacy equipment, improved its monitoring, and avoided a forklift swap-out ...
---
Praise From Our Partners — Factory Training Experience
I send this email as I want to reaffirm to you and your staff that it was a very positive business and personal experience attending your 4 day product training class. Your hospitality is second to none.
Although all of your products are totally new to me, and our business model does not fall into the "carrier" class telemetry monitoring, I was still made to feel comfortable and a part of the learning experience. during the 4 days spent, I was able to interact with many of your staff, all whom have a very positive attitude and positive approach in their work ethics. It was a rare and very positive experience to see mfg staff, including the company founders, genuinely concerned about getting feedback, from the trenches, on how their products were performing; and seeing this coupled with a keen interest in looking forward to improving products by making them more functional and easier to use.
My summary of product feasibility analysis for AdvanTel is very high, including my learning new things your products do that may help us displace some of discrete hardware we currently install in order to manage our customers PBX's remotely. I expect we will be able to initialize your products to further AdvanTel's capability to proactively provide a higher quality and level of service for our customer base. I am looking forward to defining cost specifics with Rick Dodd. We then should be able to develop a cost/justification plan for our customers.
Sincerely,
D. George Black
AdvanTel Inc.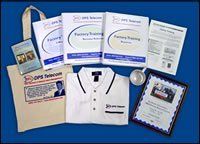 The Factory Training Resource and Reference Kit.
New Training Program Completely Revised and Improved by Client Input to Be More Focused on Your Real-World Monitoring Tasks
If you want to make sure you're doing everything you can to safeguard your network reliability, you need to go to a DPS Telecom Factory Training Event. It's the quickest, easiest, and surest way to learn how to use your DPS equipment to the fullest from Day 1. This is training that will immediately pay you back in enhanced staff efficiency, better network reliability, longer uptime, and increased revenue.
And there's no better time to attend factory training than the January Factory Training Event. The training course has been completely revised based on client input, with updated materials, more hands-on activities, and a greater focus on your specific needs.