New White Paper: How to Deploy an Advanced Building Access System
With industrial crime on the rise, it's more important than ever to deploy a building access system with state-of-the-art security features. Centralized management, user-level permissions, detailed logging & advanced notifications will help you combat theft and vandalism and enhance the security of your sites. Download this white paper to learn how you can cost-effectively deploy an advanced building access system.
Download White Paper
---
Software Upgrade Announcement: T/Mon GFX
The DPS Engineering Team has been hard at work developing T/Mon GFX, the next-gen graphical interface to T/Mon NOC. Now a standard part of T/Mon, T/Mon GFX provides an advanced, high-speed graphical view of alarms. The interface supports multiple users on multiple workstations and the alarm database is automatically synchronized with T/Mon. Read on to learn more about how T/Mon GFX provides total visibility of your network.
Read Full Story
---
Comporium Communications Gets Impressive Results with DPS Tech Support
The Comporium group of companies has provided communications services to customers in York and Lancaster counties for more than 100 years. The IAM is an industrial-grade master with high reliability, but any equipment can still fail. When DPS Support determined that a hardware failure had occurred and sprung into immediate action. Read the full

story to hear about the rapid response from the DPS technical support team. Read Full Story



---
---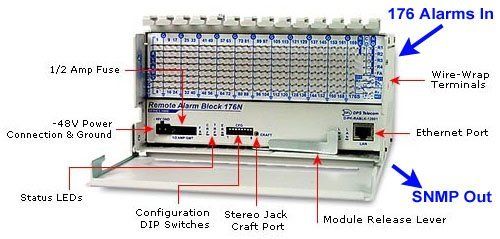 ---
New Techno Knowledge Paper: How to Send Alarms to Your Cell Phone via TAP Gateway
Setting up pages to your cell phone via TAP is a great way to stay on top of your alarms after hours or while you're in the field. This techno knowledge paper provides a simple, step-by-step guide to sending TAP pages to your cell phone from your AlphaMax or NetGuardian. It also includes a listing of TAP gateway phone numbers for several major wireless providers.
---
In Praise of DPS...

"Factory Training was an experience I would recommend to anyone looking for a top-notch monitoring system. I can say from experience that it functions very well, with a bonus of very qualified and responsive support. Thanks to all at DPS."

-Don Frisbie
Lockheed Martin Information Technology
---
---

Eric Storm
President



The True Value of DPS Factory Training

We just concluded another successful training session with attendees from all over the country, as well as a group from the Middle East.

Why do people come all that way to Fresno? I don't think it's because of Yosemite's big trees, the local casinos, or our AAA Baseball team, though they certainly are interesting.

One reason is because proactive companies want to... Read Full Letter
---
DPS Live Meeting Rooms - Immediate Answers To Your Network Monitoring Questions

Get All the Answers You Need in Less Than 45 Minutes

Live Guided Tour

DPS Live Meeting Rooms allow you to get immediate answers about your network reliability in a personal web conference. You can see a live, personalized demonstration of network reliability solutions from the convenience of your workstation. By combining video/teleconferencing and real-time messaging, we create a virtual conference room where you can view presentations & application overviews from our Applications Engineers.

Call 1-800-693-0351 to setup your live meeting today.

DPS Telecom Product Line Overview
T/Mon NOC Remote Alarm Monitoring System
NetGuardian 832A
NetGuardian 216
SNMP Alarm Remote Overview
---
Learn the Key to Making Your Job Easier
Upcoming DPS Factory Training Events: July 30 - August 2 & September 10-13
There's still time to get into the next session of the most effective training program in the alarm monitoring industry. DPS Factory Training is hands-on, challenging, comprehensive and requires no tuition for qualified applicants. Sign up early and reserve your seat at the next upcoming Factory Training Events, July 30 - August 2 and September 10-13 at DPS headquarters in sunny California. Sign up quickly because seating is limited.
Learn More About DPS Factory Training
Sign Up for DPS Factory Training