---
---
---
---
DPS Live Meeting Rooms - Immediate Answers To Your Network Monitoring Questions

Solve All Your Alarm Monitoring Problems in Less Than 45 Minutes

DPS Live Meeting Rooms allow you to get immediate answers to your network reliability questions in a personal web conference. You can see a live, personalized demonstration of network reliability solutions from the convenience of your workstation. By combining video/teleconferencing, and instant messaging we create a virtual conference room, where you can view presentations & application overviews from our Applications Engineers.

Call 1-800-693-0351 to setup your live meeting today.

DPS Telecom Product Line Overview
T/Mon NOC Remote Alarm Monitoring System
NetGuardian 832A
NetGuardian 216
SNMP Alarm Remote Overview
---
Results From Last Month's Question ...
What is the most frustrating aspect of managing your network?

Software / hardware problems - 44%
No equipment training documentation - 40%
Legacy devices - 8%
Lack of resources - 4%
Windshield time - 4%
New equipment - 0%
---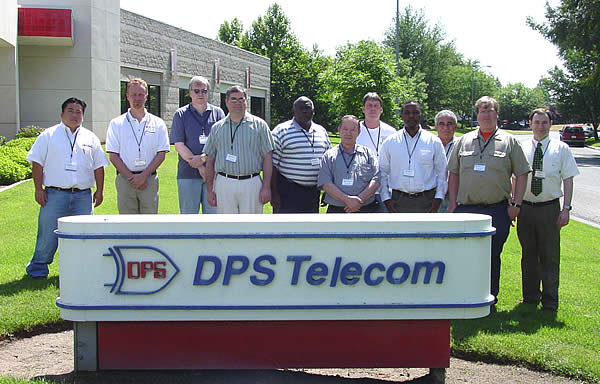 Factory Training 5/22-25/2006 - (From left to right) Vana Moua - DPS Telecom (Sales Support), Chris Hower - DPS Telecom (Applications Training Specialist), Jesse Kinsey - Entergy, Michael White - Entergy, Ronald Young - Entergy, Michael Newcomb - BNSF, Brian Hicks - Entergy, Jude Egbokwu - UnoTelos, Kamran Akhtari - BNSF,
Dean Rice - BNSF, Eric Storm - DPS Telecom (President)
Learn the Secret to Making Your Job Easier
Upcoming DPS Factory Training Events
July 31-Aug. 3 and Sept. 11-14
There's still time to get into the next session of the most effective training program in the alarm monitoring industry. DPS Factory Training is hands-on, challenging, comprehensive and tuition free. Sign up early and guarantee your seat at the next upcoming Factory Training Events, July 31-Aug. 3 and Sept. 11-14 at DPS headquarters in sunny California. Signup quickly because seating is limited.
Learn More About DPS Factory Training
Sign Up Now for DPS Factory Training
---

Bob Berry
CEO



Windshield Time is Unacceptable

Put a stop to unnecessary truck rolls, snowmobile/snow-cat and helicopter time. A large majority of these expenses can be avoided through accurately detailed alarm monitoring. You want to make sure your network monitoring will give you clear and precise information when problems happen.

If you get an alarm page at 3 AM, can you go back to bed or do you have to go to the remote site? The answer depends on the quality of your alarm monitoring. With detailed alarm data that tells you exactly what is wrong and the seriousness of the problem, you can evaluate the issue and decide how to best proceed.

Detailed alarm information allow you to properly dispatch technicians at the right time and with the right tools for the job. It is frustrating getting to a remote site only to find out you don't have the proper supplies and having to go back for spare parts and different tools. When you have specific detail about a problem, you are better positioned to quickly resolve the issue.