All New SNMP Implementation Guide Gives Practical Step-By-Step Advice for Converting Your Network to SNMP

Bob Berry, President & CEO

If you want to know more about SNMP, you're not alone. Telemetry professionals are hungry for information about SNMP, as shown by the interest in our SNMP Tutorial series, which has been viewed and downloaded over 50,000 times and counting.

The SNMP Tutorial has been a great educational resource, but I thought it was time to supplement it with a real nuts-and-bolts, step-by-step guide to what you need to do to make SNMP alarm monitoring work for your network.

This new white paper, "How to Implement SNMP Monitoring in Your Network: A Practical, Step-by-Step Guide" is now available for download, free to Protocol subscribers.

---
New Product Announcement: The Critical Alarm Enunciator Provides Local and Regional Notification of Battery Plant Voltage Levels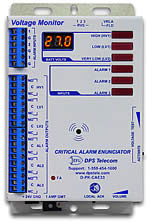 The Critical Alarm Enunciator provides local notification of alarms.
At remote sites, nothing is more critical than maintaining a constant power supply to your revenue-generating equipment. When the power goes, everything goes with it, so monitoring your battery plant voltage levels is the most important telemetry job you can do.
The new Critical Alarm Enunciator (CAE) is the right tool for monitoring mission-critical battery levels. The CAE monitors three battery plant voltage threshold alarms and three discrete alarm, provides audiovisual notification to local personnel, and then relays alarms to your NOC via your existing alarm collection equipment.
Detailed visibility of voltage thresholds...
---
Learn Network Monitoring In-Depth at DPS Factory Training, April 19-22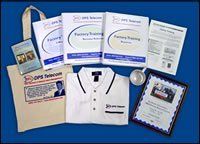 The Factory Training Resource and Reference Kit.
The next DPS Factory Training Event will be held April 19-22 at DPS headquarters in Fresno, California. You'll learn how to turn up, configure, and monitor with your DPS equipment easier, faster, and right the first time. Don't miss it!
• What you'll get from a Factory Training Event
• View the Factory Training Event Calendar
---
New York City Transit's $141 Million Project to Create an ATM/SONET Network for the 21st Century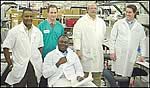 NYCT Engineering Team at Siemens factory acceptance tests in Florida.
Carrying over 4 million passengers on an average weekday, the New York City subway system places huge demands on its internal signal, control, and communications network—which, like the trains, must run 24 hours a day, every day of the year.
To meet these demands and create increased capacity for future services, the New York Transit Authority (NYCT) has undertaken a proactive project to create a new network for the 21st century. The $141 million project will upgrade a key fiber optic network connecting 188 subway stations across Manhattan, Queens, Brooklyn and the Bronx to an ATM/SONET voice and data network.
Of course, providing these services requires the highest levels of system reliability.
Why implementing network reliability management is an essential part of this project...
---
Application Feature: Four Ways Your IAM Can Automate Network Management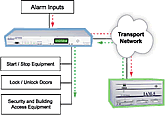 The IAM-5 and The NetGuardian 832A support derived alarms, which correlate diverse alarms and trigger automatic correction responses. The flexibility of derived alarms support a variety of advanced network monitoring applications.
Derived alarms and controls are one of the most powerful features in T/MonXM. Derived alarms are "virtual" alarms created through user-defined formulas that coordinate inputs from several alarm points and apply logical operators to them. One classic example of a derived alarm is the combination of a low battery AND a broken generator. Either condition isn't only a Major alarm by itself, but in combination they are a Critical alarm.
The value of derived alarms is that they provide a way for you to watch for alarm combination scenarios. You don't have to scan your monitoring screens to figure out what's happening with your network. If you've configured your derived alarms, you've told T/MonXM what to watch for, and it will keep track of your alarms for you.
What can go undetected without derived alarms ...
---
QuickTips: How to Send an IAM Heartbeat Alarm to an Upper-Level Master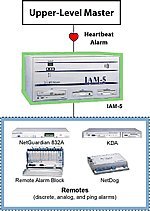 Configure Your IAM to Send a Heartbeat Alarm

Often, in telemetry monitoring, the information you most want to see is a simple positive confirmation that your monitored devices are up, running, and connected to your collection master.

This is no problem if you're using one of the many alarm monitoring protocols that support polling, in which the master actively verifies communication between it and remotes. But there are many widely used protocols, like SNMP and SCADA, that don't support polling.

In these protocols, communication between remotes and the master is initiated by the remote only if it has an alarm to report. Silence from the remotes usually means all is well — but sometimes it means the communication lines have broken down completely.

How do you tell the difference?

How to configure your IAM to send a heartbeat alarm...
---
DPS Telecom at the CTA Suppliers' Tech Expo, April 26-28 in Sacramento, CA
See the latest developments from DPS Telecom at the California Telephone Association's Suppliers' Tech Expo, April 26-28 at the Sacramento Convention Center. We'll feature our new products the Critical Alarm Enunciator, the NetGuardian 216 and 480 — plus some surprises!
---
The Protocol Needs Your Reader Feedback
The Protocol needs your input to make this e-newsletter a better information resource for you. Starting this issue, we're adding new reader feedback tools:
Discussion links at the end of each article: Click the "Discuss" link at the end of each article to read and post to The Protocol Users Group Forum. (Note: you must be a registered user of the DPS Telecom Web site to access the Forum).
Letters to the Editor link: If you want to contact The Protocol directly, send your comments to editor@theprotocol.com